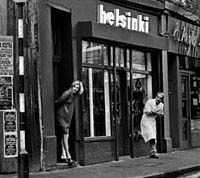 It's random Q and A time round 2!
Do I have medical insurance here?
(yes. we have Universal Health Care like many European

countries

do)
Have I been to the doctor here?
(yes)
Does my doctor speak English?
(no. she speaks fluent Finnish and German. Mr C is the interpreter. I need to get a new doctor)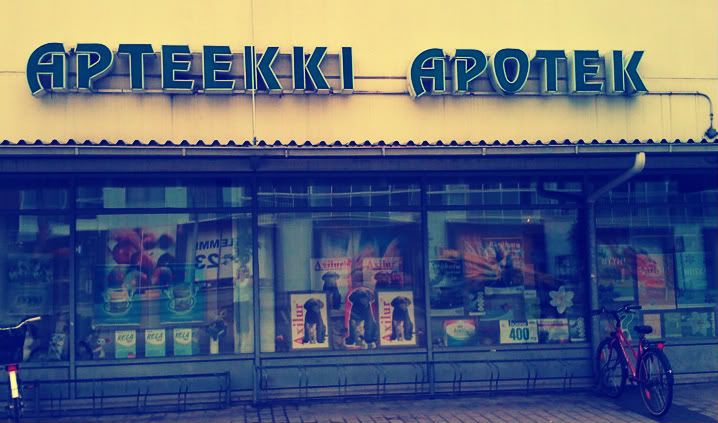 my local Apteekki (Finnish) Apotek (Swedish) Pharmacy (English)

Do all the men carry those European man purses?
(they are popular but I see both men and women with back packs more than purses)
(Mr C doesn't carry either. I carry a purse... a woman purse)


Can I vote here?
(no. we are American citizens so we have no voting rights here)


Does Finland have royalty?
(no, there is a parliament
. there was a woman president; Tarja Halonen)
Is Mr C also a vegetarian?
(he eats meat on occasion but 99.9% of his meals are vegetarian.
he says he doesn't miss the meat in what I cook for us)


Do all Finn's have natural blond hair and blue eyes?
(no.)
Have I ever ate at the McDonalds here?
(yes once. fries. they were the same)
and now
Continuing the everyday stuff
(hopefully still not boring you)
This one's a little gritty!
Transportation
Getting from here to there.
We do own one car however, as I wrote this,
it's not here so
during my alone in the city time this month
I have 2 options
walk
or
use public transportation.

I am not alone for sure!
MANY people do not even own a car here
or
even have a drivers license.
I am impressed at the ease you can get around using the system.
It takes a little practice
thankfully there's
an option in English so I can plan my route on the internet before I leave home!
no glamour in the stairwell going to the train either
or at the bus stop in Itäkeskus... well maybe a little glamour hahaha.
I'm seriously tired waiting for the bus after hours of shopping. my feet are killing me.
my options are to stand outside in the melting sun or sit in the glass enclosure with no breeze with cigarette smoke.
I just don't get that! I really don't! face reflecting my irritation?
yes, I think so.
ps my hair was looking super cute when i started the day, melty flat and sad at this point... just say'n.














I have experienced all the modes of public transportation here.
I have to say that I have found all the
trains, trolly trams, buses, boats and taxis
to be very clean
on the inside
the outside stops such as
the Metro stations, bus stops
are another thing.
I am always dissapointed how dirty they are
well actually they aren't
it's the people who don't respect the public area.

I was warned early on to avoid 'puddles' and streams of 'water' coming from walls and corners.

I'm sure I will give a good rant on the subject of
spitting, dog poop, cigarette butts
and
rampant public urination
at some point....
can you hardly wait!!!!