Why did we pick April 1st as a wedding day?
I think it just kind of picked us....
IF
everything fell into place.
We made a decision based on what was in front of us....
Mr. C had a business meeting in Alberta Canada
scheduled on that Monday after Easter Sunday.
We didn't know when we would get married exactly.
My move date we knew for 6+ months.
But the wedding day was still up in the air...
We knew it would be either before I came to Finland or very soon after I arrived there.
For months we discussed and researched where to get married...
We could have had any kind of wedding anywhere we choose.
No matter where we would travel.
No matter where we would live,
Michigan is where our story began
(and there truly is no place like home)
Quietly we eloped on the morning of April 1, 2010.
We had a private ceremony blessed by a nice Minister.
We had soft vanilla ice cream in our home town at The Curly Cone in Millington. It was hot that day, 80f.

We had lunch in Frankenmuth. We had grilled portabella sandwiches and fries at the brewery.
April Fools Day.Vanilla ice cream. Portabella mushroom sandwiches. Michigan.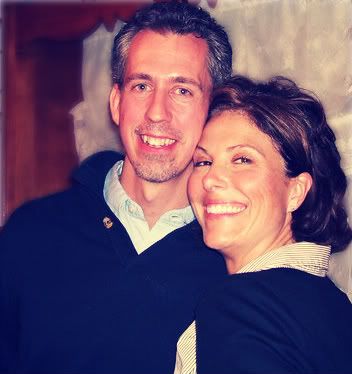 Mr. & Mrs C.
our friends call us that because it's easier than saying Mr & Mrs Cichoracki...
and we grew up watching 'Happy Days' so it just works!
this is us at the wedding party our sweet school friends surprised us with!
what a nice night catching up!
we laughed and laughed and ate and ate and drank and drank and danced and danced.... what a great night!
In the end Mr C's quick 3 days turned into 10 wonderful days.